We have been Twinning for over 50 years !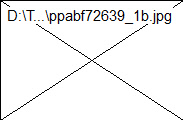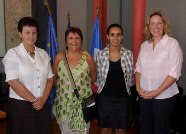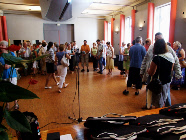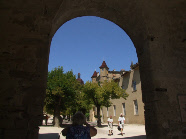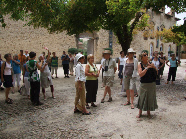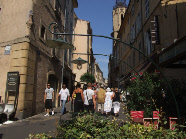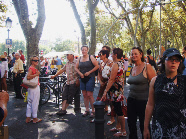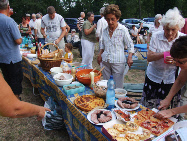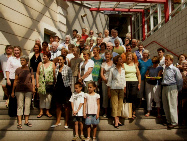 Looking around the abbey church and village of St Antoine l'Abbey- where hospitals were established and from where the disease St Anthony's fire took its name.
A group of 25 people from Coalville visited Romans from 16 - 23 August 2009. It was a very full week of activities and visits - and the weather was very very hot !
The Official Reception at the Mairie, where we were welcomed by Michelle Fillograsso, president of the Exchange and Latifa Chey, the Romans Councillor responsible for international exchanges.
The Exchange of Gifts at the Town Hall
A full day visit to Aix-en-Provence to see the ancient town and view the Picasso/Cezanne Exhibition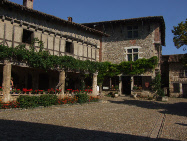 The Medieval hilltop town of Perouges was well worth visiting - fortunately the coach was able to drop us off at the top of the hill !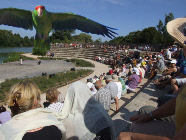 The amphitheatre at the bird sanctuary, with impressive displays close to our heads in the sweltering heat.
And finally a welcome picnic in the shade of the evening where we were treated to home made fare with a French and Spanish theme. Many thanks to our hosts.
Posing for the group photograph for the press outside the Town Hall in Romans.
A narrow street in Aix provides some welcome shade on a very hot day.
Proposed
Exchange Visit to Coalville
Summer
2018
NEW MEMBERS
WELCOME
Names now being taken
or
We are also interested to hear from any groups or organizations in the greater Coalville area who might be interested in making links or participating in an exchange or a project.
Please ask your friends if they are interested and give us a call.
01530 836700
—----------------------------------------------------
Total Cost of Exchange Visit to Romans usually about £250